In Scotland, we have access to clean, safe drinking water, which is easy to take for granted. However, many parts of the world aren't as fortunate. To combat this the UN have created an objective to ensure availability and sustainable management of water and sanitation for all, as part of their sustainable development goals.
Learn how researchers at the University of Glasgow have developed exciting new data analytics so we can use this data to help maintain and conserve our water.
Please introduce yourself: what is your name and what do you do?  
We are a team of statisticians in the University of Glasgow, Marian Scott, Ruth O'Donnell, Surajit Ray, Claire Miller and Craig Anderson
University of Glasgow – Schools – School of Mathematics & Statistics – Research – Statistics – AI³ Initiative
Our interests are in studying the environment using data and statistical models to investigate changes, to find patterns and to explain them where possible. One area we are all passionate about is water.
Here in Scotland, we perhaps take for granted that we have plenty of clean water but this is not true around the world. Even here in Scotland, we need to take care of our water resources in terms of both water quantity (floods and droughts) and quality (different pollutants). The freshwater resources of our lakes and rivers are fundamental in supporting life. Water quantity and quality have changed over the years due to climate change, as well as activities such as water extraction for crop irrigation, and the run off of pollutants from land.
We work with data coming from many different sources:
Routine collection of water samples from lakes and rivers, brought back to the laboratory and then analysed for chemicals of interest.
Smart sensors which are placed in the environment and stream back data (often powered by solar energy)
Drones and satellites.
The laboratory measurements and small sensors give us data about water quality at a very specific location as identified by its latitude and longitude.
New technologies (sensors and satellites) have allowed the generation of diverse data streams to observe water quality and quantity in significant detail from around the world.
The satellite data comes in the form of images observed over time. Every time the satellite passes overhead an image is recorded, often the image is obscured by clouds. Satellites provide images where each image is made up of pixels, which are small grid cells, a bit like a jigsaw puzzle with all the pieces in the shape of a square or pixel. Sometimes each side of the pixel is as small as 10m, for other satellites, the side of the pixel could be a kilometer in length.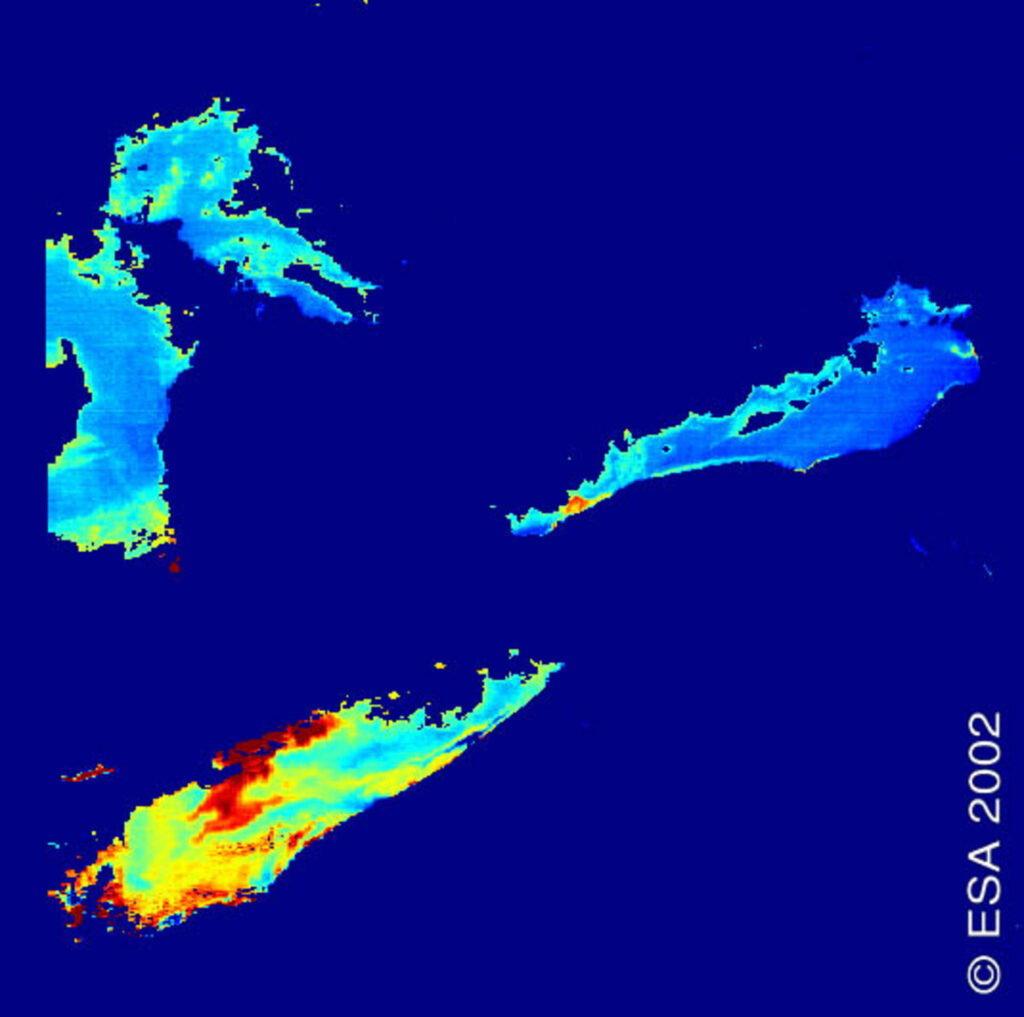 Example of satellite image showing phytoplankton fluorescence in North American lakes. This image was taken by Envisat's MEdium Resolution Imaging Spectrometer (MERIS). The redder an area is, the stronger the fluorescence from phytoplankton.
2. Tell us about you research, what problem did you want to solve? 
We are currently working on several projects:
Globolakes is a global project studying 1000 lakes. We are using historical satellite images, taken monthly and going back 12 years, to try and understand changes in water quality (temperature and chlorophyll levels for example) in these lakes.
Some of the lakes are in very remote parts of the world, so that the satellite images allow us to observe them without sending teams of scientists.
Some challenges include the problem with cloud cover, so that sometimes large parts of a lake are not observed, another challenge is dealing with lakes which freeze over in the winter. What we want to do, using all these data, is learn which lakes are behaving similarly over time. Recognising this could allow us to recognise the effects of climate change.
These images show the results of looking at all the 1000 lakes and the smooth curves we have estimated, and then clustered.
This image shows the locations of the lakes, each one represented by a coloured dot, the colour representing the cluster.
This image shows the patterns in each of 9 identified clusters of lakes.
Source: Maberly, S. C. et al. (2020) Global lake thermal regions shift under climate change. Nature Communications, 11, 1232. (doi: 10.1038/s41467-020-15108-z)
In the Ramganga Project we are studying a large river in India. Here the challenge is again to understand about water quality in the Ramganga River, we are using water samples (lab based), sensors, drones and satellites:
The classical water samples, are collected in a few locations each month, they are taken to the laboratory and analysed there.
The sensors can be placed along the river and while we only have a few, they can produce data every day or even more frequently.
The drone we fly over specific stretches of the river and it produces a very detailed image of that stretch.
The satellite can provide images covering the whole length of the river.
Bringing together and linking these different data streams is called data fusion. Data Fusion allows us to benefit from the strengths of all the data sources to produce the best estimate of water quality along the entire river (and very importantly) taking account of any uncertainty.
Some challenges we have here is that the river is narrow in the dry season, but much much wider in the wet (Monsoon) season so the satellite is not always able to distinguish the river. However, if we can produce a map of water quality in the river and how it changes, then this will help people who live along the river.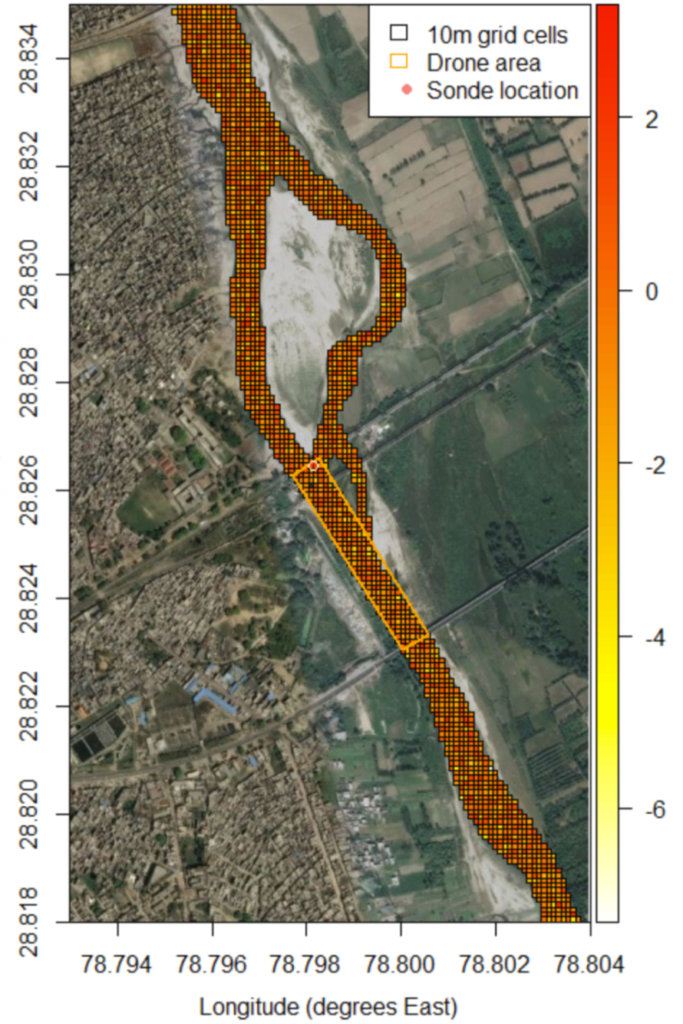 This image shows the river with locations marked for where we are monitoring the water and planning to fly the drone.
Scottish River Levels
The third project in Scotland is also using sensors and satellite images to understand river levels and soil moisture to help farmers identify when best to withdraw water from the river to irrigate their crops. Measuring soil moisture also helps them plan their crop management.
This is part of a Digital Environment initiative. The sensors are distributed around the river system, but we had to plan where to place the sensors to make sure that the data they collect can be transmitted back to base for our analysis.
We are using solar panels to help power the sensors, so we need to keep an eye on energy since if the energy falls, then we might have less confidence in the measurements. (We are also collecting data on rainfall).
We use satellite data from the Copernicus satellite to map the whole area then we can fuse the data from the satellite images with that from the sensors to build our understanding of river levels and soil moisture.
What challenges have you faced and was your solution?
In the Globolake project we are working with massive amounts of data. What we have tried to do is first create a framework, tackling data quality and any errors, which allows us to create clusters of lakes with similar patterns and observe their geographic distribution.
With the Ramganga Project, we are trying to fuse quite different data streams to provide an improved map of water quality. The challenge here is that the sensor and lab sampling tell us about a specific place and time in the river. With the satellite images, however, each pixel is an area, not a point location, and we may only have observations every 14 days, so the data are described as misaligned. Our solution was to develop a statistical model that links together these different data streams taking account of the 'misalignment in time and space'.
In the third project, we are building a model that links the different data together which will allow us to make forecasts of what the soil moisture will be in a specific place, up to several days into the future.
How important is gathering and processing data to your research? Is there any particular technology that helps you in your work? 
It is absolutely vital that we have the different data streams in our projects, and the availability of satellite data have really made a big difference to how we are thinking about our environment – hence the digital environment theme to all our projects.
Is teamwork important to this project and who do you collaborate with?  
Teamwork is vital, we need people who understand the environment, so water specialists, soil scientists etc, we need people who understand about the technology, so engineers and IT (Information Technology) specialists, and we need people who understand data (that is us). For the project in India, we are working very closely with Indian colleagues.