Researchers, scientists and analysts around the world are looking at ways we can efficiently capture and store the light (and heat) the sun gives us. With help from ourfuture.energy learn how some bright sparks in the scientific community are looking at how we can use current technology to make the most of the sun on our roads.
Solar Powered Roads
The amount of sunlight that hits the surface of the earth is huge. The possibilities of what we could use that amount of sunlight for are even bigger!
Researchers, scientists and analysts are looking at ways we can efficiently capture and store the amount of light (and heat) the sun can give.
However, there are some bright sparks out there looking at how we can use the technology we do have already, to make the most of that big, bright, boiling ball in the sky on our roads…
Walking on Sunshine
By replacing the usual materials used for motorways, roads and footpaths with LED or solar panel tiles, there are benefits to be had over traditional concrete.
One company, Solar Roadways, is looking at using solar panels as an alternative.
The solar panels designed by the company are able to avoid seasonal problems such as ice and snow, which can cause accidents and traffic issues, by heating up. The heat produced from the panels means cold weather would not affect these roads as it would normal roads.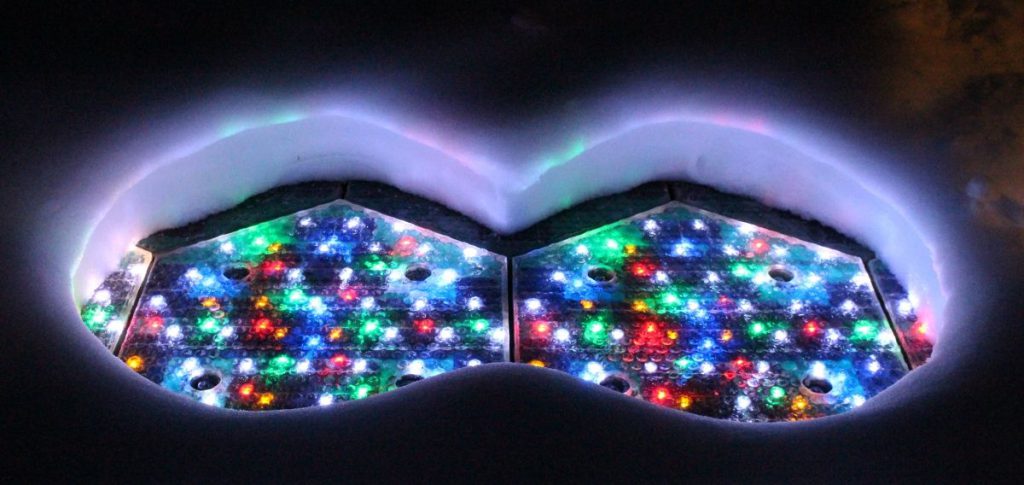 Solar Roadways hexagonal shaped solar panels are heated to keep them clear of snow and ice. Photo credit – Solar Roadways
The LED lights can be changed to any pattern or sequence of words that could replace street signs such as speed limits or STOP signs. Or they could simply be used to separate lanes that are currently provided by paint or "cats eye" reflectors.
Other safety problems the company claims the solar panels can overcome are potholes. Standard roads can sometimes get damaged with potholes over time, and repairing problems like these can take time and money. Solar powered tiles can be removed one at a time when they are damaged, meaning possibly less roadworks and hassle for drivers and cyclists.
Although, despite testing out these tiles for heavy loads like trucks, it's hard to say how these new slabs would hold up on a busy motorway with thousands of cars, vans and lorries travelling over them all day every day.
However, the future of roads like these could also mean generating electricity and powering electric cars, which are already in use in the UK, though they are still not a common sight
Blame it on the Moonlight
Designer Daan Roosegaarde looked at creating range of sustainable ideas for roadways, Smart Highway.
Along with charging electric cars while driving on the motorway, as well as solar powered motorway lines to replace overhead street lights, Roosegaarde looked at the artier side of solar powered roadways.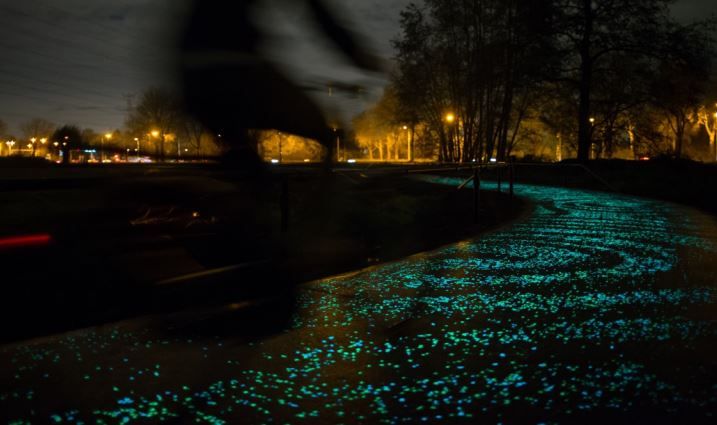 Photo credit (along with main article image) – Studio Roosegaarde Van Gogh-Roosegaarde cycle path, Netherlands
He created a footpath with a design based on Starry Night to mark the 150th anniversary of the death of Vincent Van Gogh.
The footpath is made of glowing stones which charge during the day and shine at night.
Even if these ideas never see the light of day (sorry…), it's interesting to see the innovation that could happen when you try new ideas, as well as mixing design, art, technology and science.
Who knows what other products could come out of the ideas shown here!