The National Manufacturing Institute Scotland (NMIS) is working to help make Scotland a global leader in advanced manufacturing.
 
Meet Awais Munawar, who leads visualisation within the Digital Team at NMIS and tells us about how Augmented Reality and Virtual Reality could be used to transform industry. Plus, read how collaboration, creativity and problem solving are vital to this work.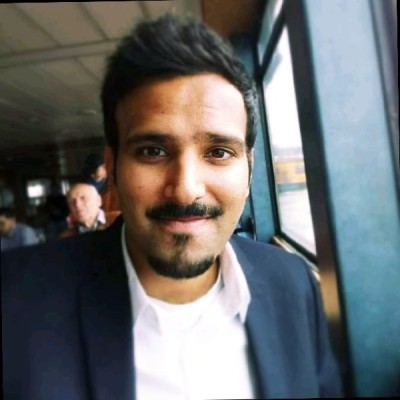 Please introduce yourself and give a brief description of your role?
My name is Awais Munawar, and I lead visualisation within the Digital Team at the National Manufacturing Institute Scotland (NMIS). NMIS is a group of industry-led manufacturing research and development facilities. Our goal is to help make Scotland a global leader in advanced manufacturing.  
My role involves creating Augmented and Virtual reality (AR/VR) solutions for industry. Augmented reality (AR) adds digital elements to an existing image or video. Examples of augmented reality experiences include Snapchat lenses and the game Pokemon Go. Virtual reality (VR) completely immerses the user and shuts out the physical world. Using VR devices such as HTC Vive, Oculus Rift or Google Cardboard, users can be transported into various real-world and imagined environments. 
Could you tell us about some of the projects you are working on?
I'm currently developing a course to introduce AR/VR technologies to beginners, which we plan to release by June this year. I'm also in the process of using AR/R to showcase our brand new NMIS building, which will be finished next year.
How can the technology you work with be used to transform industry? 
AR/VR technologies are transforming industries by reducing costs and developing new revenue models. For example, companies can use VR to create new factory layouts, identify any issues, and communicate their plans to their teams before investing in equipment. 
Imagine going into a new workspace where you need to fix an engine you have never fixed before. How would you do it? AR could guide you through the process with text or animation, and, when required, you could share your work through a camera with your colleague.
Who does NMIS collaborate with, and why is collaboration essential for your work?
We collaborate with many organisations worldwide to carry out research that pushes the manufacturing industry further. We collaborate with different research technology organisations, universities and companies of all sizes.
Collaboration is vital for our work because we can tackle big challenges and create solutions that are accessible to a wide range of companies. 
What other new materials, processes or technologies are NMIS working on currently?
My digital team colleagues are working on some other technologies, including data analytics, 5G, robotics, sensing, measurements, and more.
What key challenges for industry are you working towards solving?
There are a few challenges that I'm interested in solving, particularly finding ways for manufacturing companies to test production virtually and identifying ways to share secure information in real-time.
What is AR, and how is it being used in industry?
AR is often referred to as the interaction of digital content within the real world.
Typically, this would be done through cameras on mobile devices to track surfaces and place 2D or 3D content. With AR, you can experience both the digital and physical world. Not sure how the sofa will look in your living room? You could view a 3D sofa through AR!
What are the benefits of using AR in your field?
AR could allow companies to train operators on a new job by overlaying text or animation to their surroundings to guide them through processes. It would also be used by companies to fix a problem quickly by offering support remotely. For example, a car could be fixed by someone who has never fixed it by giving them live support by an engineer through AR.
What problems or challenges does AR present? Or indeed solve?
Currently, there is not much focus on how privacy and security are maintained during AR applications. For example, if you are using an AR application and someone walks in front of it, is the application recording him/her and the information saved on a server? Or, if someone walks into a factory and has access to the AR application, can they see all the factory information on it, or is it secure?
How does augmented reality help humans in everyday life? 
AR can enable humans to see the world as a large canvas that they could use to play, learn, solve problems and share their stories. For example, imagine a Pokemon Go styled game where instead of Pokemons, you can see historic images/animation of the environment. You could be walking by Finnieston Crane and use AR to truly appreciate its history.
Or maybe you have bought IKEA equipment, but you don't understand the instructions, so you use your phone scan to see AR work instructions on assembling the equipment.
One last example – you can see important city information as you walk through the park without having any billboards/signs that could damage the environment.
AR will be genuinely transformative, and it needs everyone to be part of it to help develop its future.
Why has augmented reality not been widely used before, and what has changed or needs to change so it can be used? 
Whenever any new technology is developed, it's not available for a large consumer base due to high costs. However, as the technology matures, it becomes more accessible for everyone.
This is the same for AR – current technologies are accessible for industrial use since often AR technology is too expensive for the general population to purchase. However, this is slowly changing with AR glasses from NReal and Apple/Google releasing AR enabling improved software development environments for future applications.
How do you see AR being used in the future to transform the manufacturing industry?
I think AR combined with 5G and IIoT (industrial internet of things) will transform the future manufacturing industry by creating true digital twins that follow the product from creation to being sold and used.
What or who inspired your interest in your chosen field? 
I'm interested in visualisation technology because it's a combination of multiple fields. It keeps you learning new things every exciting day.
AR/VR requires me to think about 3D art, software development, user experience, business value and more.
Can you tell us a bit about your training?
I had an interesting journey into my current field. When I was younger, I had no idea what I wanted to do. Following advice from a guidance teacher, I went into an engineering degree. However, I didn't complete the degree due to a lack of interest in theoretical work. 
For the next few years, I worked in multiple areas (catering, retail and more). When considering what to do for the future, I started an apprenticeship within an aerospace company. 
This led me to completing a degree in engineering. Afterwards, I moved to lead a team building 3D-printed parts for geostationary satellites for communication.
My advice to anyone is to not panic at any stage of their career. Just keep learning new things and exploring fields that might interest you. 
What do you wish people knew about your job?
I wish people knew visualisation research is a creative field that requires both engineers and 3D designers who can create solutions that create a good user experience for the customer.
So, if you like engineering or art, there is a role for you in this field, and it would welcome people from a wide range of backgrounds.
What do you think are the key skills needed to be an innovator or to work in your field?
To be innovative in this field, you need to be a creative person who can imagine what applications will be required in the future. It also helps if you have engineering/mathematical skills to build systems.
Find out how NASA are using AR for future exploration.