The current global power demand is on the rise, with 84.4% of the present power demand being met by fossil fuels. To achieve 'Net Zero 2050', along with the development of low-carbon energy sources, the secure use of our limited energy supply is essential.
Buildings use ~30% of primary energy and account for ~30% of global carbon dioxide emissions. By combining the Internet of Things (IoT) technology into a physical building, huge energy savings could be made. IoT technology needs a network of wireless sensors so it can work as efficiently as possible. However, most sensors are powered by batteries which puts limits on where and how IoT technology can be used, including in buildings.
This session explains the use of indoor solar cells which can harvest light energy from artificial light sources, such as fluorescent lamps and white LEDs, which are found everywhere inside buildings. The harvested energy can then be used to power the IoT technology and its sensors. Could existing solar cells be used inside buildings? How much power can we get from indoor solar cells? And are indoor solar cells useful for achieving smart buildings? Find out the answers to these questions and more in this recorded live session.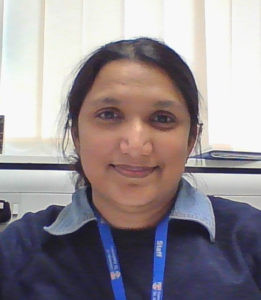 About Lethy Krishnan Jagadamma
Dr Lethy Krishnan Jagadamma is a UKRI-Future Leaders Fellow and leads the Energy Harvesting Research Group at the School of Physics and Astronomy, University of St Andrews. While a Post-doctoral fellow at KAUST she expanded her research expertise to the field of solution-processed photovoltaics and contributed to the development of record efficient organic and quantum dot solar cells. In 2015, she returned to the UK to join as a Research Fellow at the Organic Semiconductor Centre at the University of St Andrews, UK. In 2017, she was awarded Marie-Curie Individual Fellowship, to focus her research on the 'Time-resolved photovoltaic properties of hybrid perovskite semiconductors.' In March 2020, she was awarded the prestigious UKRI-Future Leaders Fellowship to build her research team.
Images credit: Dr Paheli Ghosh, Energy Harvesting Group, University of St Andrews.